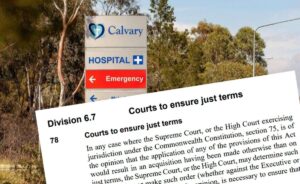 The ACT Government is about to make a compulsory acquisition of Calvary Hospital.
No one disputes that governments can do compulsory acquisitions on just terms. They are often undertaken for the benefit of the community ('Common Good').
No one likes compulsory acquisitions, naturally enough, especially a medical institution like Calvary Hospital.
However, if governments are going to do compulsory acquisitions, they need to do them according to the rule of law and on just terms.
The ACT Government is not doing this.
We need to know two things.
First, the government has suspended its own Standing Orders.
That is, the government has said that in this case, they don't need to have the customary two-month period of discussion, enquiry and reports, before the ACT Assembly votes on the compulsory acquisition.
They introduced the Bill on 11 May 2023 and want to do the compulsory acquisition on 3 July 2023.
Second, the ACT Land Acquisition Act 1994 deals with compulsory acquisitions on just terms.
The government says this Act will not apply with the Calvary Hospital compulsory acquisition. 
Rather, the ACT Government says that they will do the compulsory acquisition and then work out the just terms later through regulation.
Now that we know this, we should act.
The bottom line is this:
The ACT Government can do a compulsory acquisition, but they must be forced into doing it according to the rule of law and on just terms.
Is this too much to ask?
If this does not happen, then a precedent is being set in the ACT that will have grave consequences for any other community group, not just here, but around the country.
What can we do?
Sign the petition: www.savecalvary.com.au
Contact the Prime Minister's Office: https://www.pm.gov.au/contact-your-pm
The Prime Minister must force Chief Minister Barr back to the bargaining table to defend the property rights of ordinary Australians.
Much is at stake. We must act now.